Knitting is often regarded as a therapeutic and creative endeavor, and when winter comes around, it's the perfect time to get those needles clicking and create beautiful and warm projects. But here's the catch- if your mind is bursting with creative ideas, the world of knitting can be a bit overwhelming; especially when you're faced with decisions like what to knit, what yarn size to choose, and which material is best suited for your winter project. We are here to answer all those questions for you! If you're feeling inspired but unsure about the ideal yarn for your winter knitting, let us guide you through it.
What Are Winter Yarns?
When it comes to winter knitting, you want yarns that can keep the cold at bay, providing warmth and comfort amidst the super chilly weather. Winter yarns often tend to be often animal-based, making them the perfect choice for those cozy cold-weather creations. Here are some fantastic options to consider for your winter knitting projects:
Merino Wool: The Winter Classic
Merino wool yarn is a timeless choice for winter knitting, and for good reason. It exudes warmth and coziness, making it a top pick for knitters preparing for the winter season. What makes it exceptional is its durability, ensuring that your knitting projects will last for years to come. What a satisfying feeling it is to be able to flaunt your hand-knitted creations for multiple seasons on end! Merino wool offers excellent insulation, making it perfect for crafting various garments. The fabrics made from these merino wool fibers have enhanced water and wind resistant properties, adding practicality to its cozy attributes.
Go for Viva or Flora by Symfonie Yarns if you're looking for a complete package in one place –quality, variety, and a mesmerizing array of stunning hues. Knit everything from cowls to sweaters, all while enjoying the exceptional warmth and comfort it provides.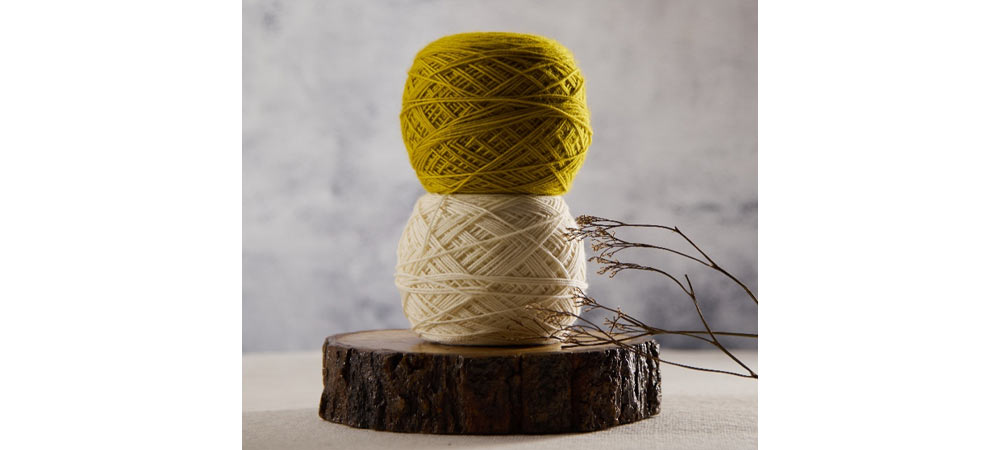 Nylon: The Sock-tastic Yarn
When it comes to winter knitting, you might not immediately think of nylon, but this versatile material can be a game-changer, especially when blended with the cozy goodness of merino wool. Symfonie Yarns' Terra range brings together the softness of merino and the durability of nylon, making it the perfect choice for crafting those essential winter socks.
Nylon is renowned for its strength and resilience, which makes it an ideal partner for crafting long-lasting winter socks. These socks need to withstand the rigors of daily wear, and nylon ensures they stay intact, even after countless steps of adventure.
While nylon is known for its durability, it doesn't compromise on warmth. With Terra, you get the best of both worlds – the cozy warmth of wool and the durability of nylon. It's a win-win for keeping your feet snug during chilly winters.
Silk: Shimmering Winter Elegance
For those looking to add a touch of elegance to their winter knitting projects, consider silk. When blended with premium merino wool, as in Symfonie Yarns' Luna range, silk brings a shimmering quality to your creations. Knit beautiful sweaters that catch the light and radiate charm during those chilly winter days.
Silk is celebrated for its luxurious sheen, which adds a touch of sophistication to your winter garments. Luna creates a unique textured fabric that shimmers in the light, making your creations stand out.
The outstanding silk and merino blend also offers remarkable warmth while remaining lightweight. This makes it perfect for winter knitting projects, as it provides insulation without adding bulk. You can stay cozy and stylish without feeling weighed down. Moreover, silk is naturally breathable, allowing your skin to stay comfortable even when the temperature drops. What a breath of fresh air in the stuffy weather!
Tips for Choosing the Best Winter Yarns
When you start a winter knitting project, there are a few considerations to keep in mind to ensure your experience is as cozy as the essentials you knit.
Pay attention to the weight of the yarn you select. It's crucial to choose a yarn weight that you find comfortable to work with, as this can greatly affect the ease of your knitting process. A weight that suits your skill level and project requirements will ensure a smoother and more enjoyable experience.
Additionally, prioritize softness when picking your yarn- opting for soft materials is the key to achieving that cozy factor. Soft yarns not only feel pleasant against your skin but also contribute to the overall comfort of your finished project.
Never underestimate the importance of yarn quality. The final look and durability of your knitting project are heavily reliant on the quality of the yarn you choose. Investing in Symfonie Yarns ensures that your creations will withstand wear and tear, whilst maintaining their beauty and warmth for seasons to come.
Winter knitting is not just about staying warm; it's also about creating beautiful, cozy, and long-lasting pieces of art. With the right choice of yarn – be it merino wool, nylon blends, or silk – Symfonie Yarns will not only keep you warm but also add a touch of elegance and style to your wardrobe.