Here we go, again! Picking up where we left off on our first posting about yarns & weights (aka: yarn thickness). In the first posting, we shared information on the first three popular weights (fingering/sock, Dk/light worsted and Worsted. In this blog, we will be discussing these 3: Bulky, Super Bulky and Jumbo. First let's revisit the helpful chart on Yarn weight, as designed by the Craft Yarn Council.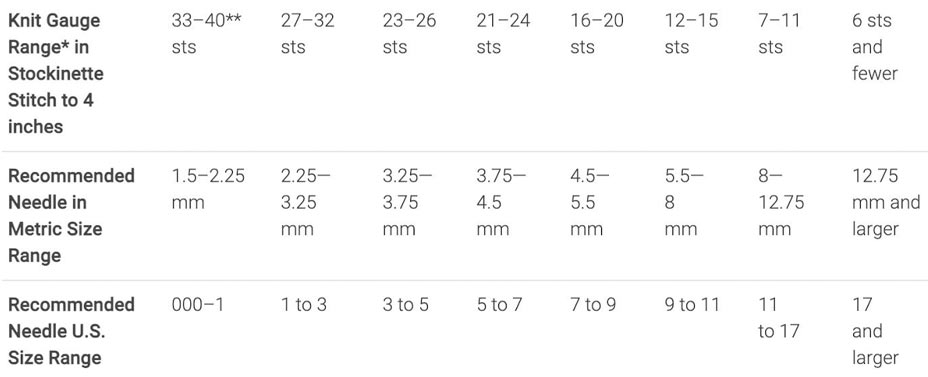 Bulky/Chunky Yarn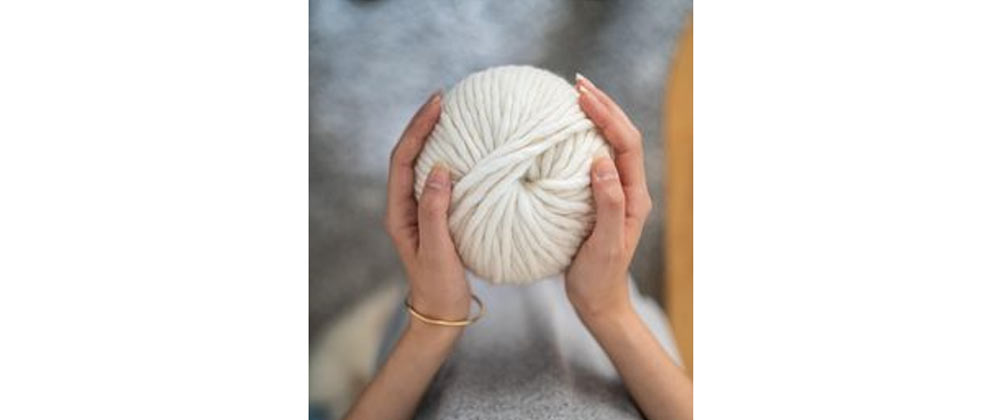 "Bulky " yarn is best described as thicker than worsted and not as thick as a super bulky yarn. A wide variety of yarns can be called bulky (aka chunky) but think of it as any yarn that yields approximately 12-15 sts over 4" on stockinette stitch or 8-11 sits over 4" of single crochet. Often you will see it categorized on the label with the number 5 (see the chart above). It's most normally worked on size 9-11 (US) needles or crochet hooks K-M (US). Since it is thick, it works up very quickly which many knitters appreciate. The gauge can vary greatly when working on a chunky/bulky yarn. A lot depends on the exact composition of the yarn, the needle used and the maker's style of work.
It's a great yarn to use when knitting or crocheting cold-weather accessories, thick blankets and throws. There are many bulky/chunky yarns on the market, a number of which are blends and many of which are mixed with synthetic fibers. For the utmost warmth, it's best to stay with a ball of pure wool – merino being a good choice. Good chunky yarns can be found in yarn stores located in areas with cold weather temperatures and online. Here is a sample of a chunky yarn hat pattern that is bound to produce smiles, from the knitter and the lucky recipient who receives it.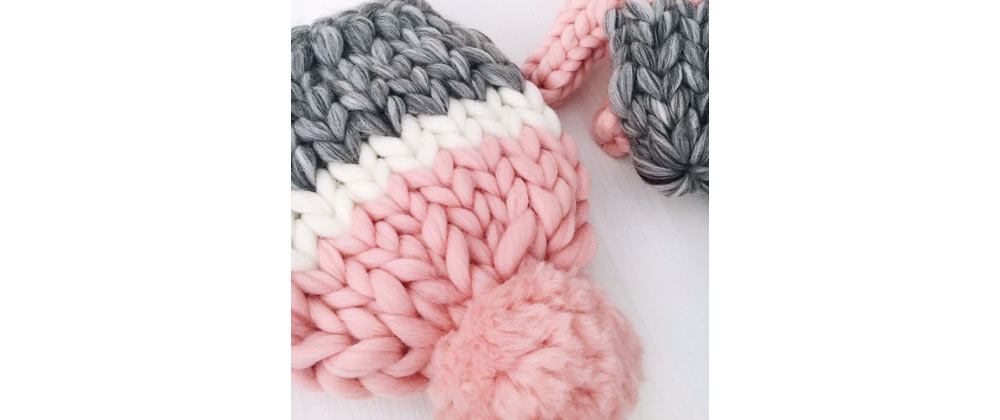 Like many hat patterns, this one is worked in the round on circular needles. Most good hat patterns call for knitting in the round so there's no seam to sew up. For a good set of circular knitting needles, look here. This set has a wide range of needle sizes and it includes the shorter (16") cables. If you need more cables, here's where you can find them.
Super Bulky/Chunky Yarn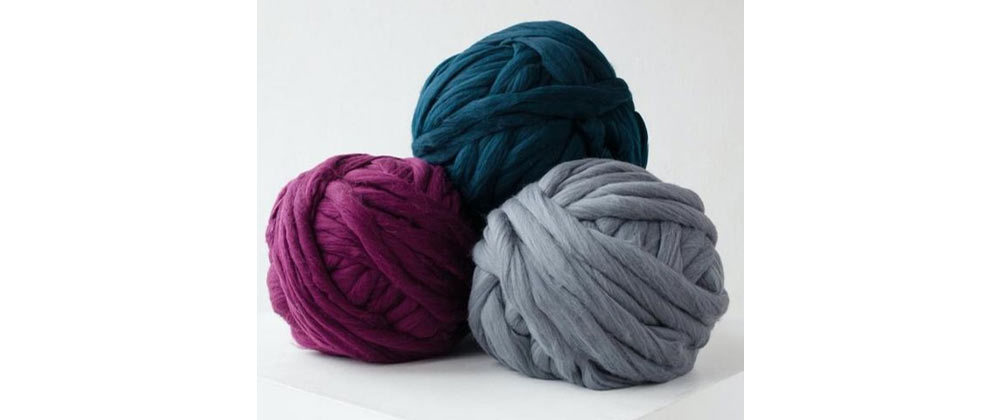 Super chunky yarn is weightier and thicker than traditional bulky yarn, and super soft, and "squishy. Super bulky yarns have a great stitch definition, making them ideal for both beginner and experienced knitters and crocheters.
This weight of yarn is perfect for those just starting out in knitting or crochet. It is really easy to see your stitches in this weight and since the project works up so quickly it gives you fast results. The number 6 on the label will easily identify it as a "super bulky" yarn, and the recommended needle size for this yarn runs from 11 (US) to 17 (US). Here is an example of a popular pattern that uses a super bulky yarn. While it can be done in a thinner yarn, and with a smaller needle, we think it looks extra luxurious when knitted with a super bulky yarn on a size 17 (US) knitting needle. This yarn is wonderful for the crocheters out there who wish to make a cozy blanket or muffler. Worked on a bulky crochet hook from M-Q, it yields approximately 7-9 single crochets for every 4".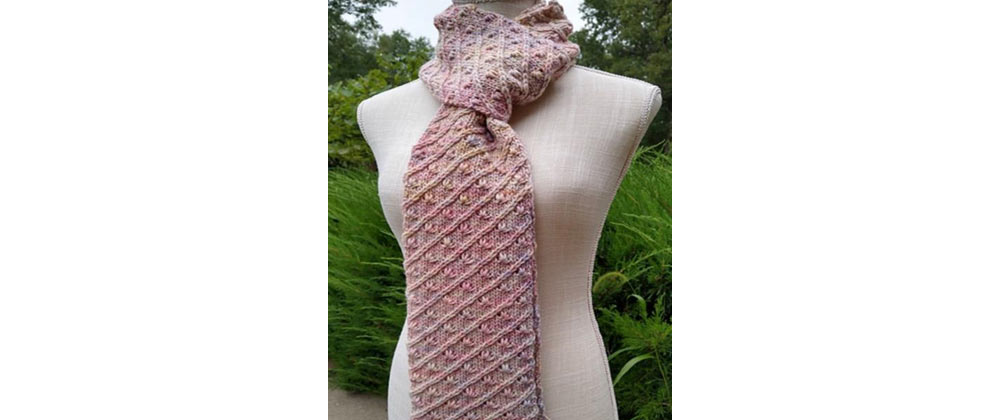 Jumbo Yarn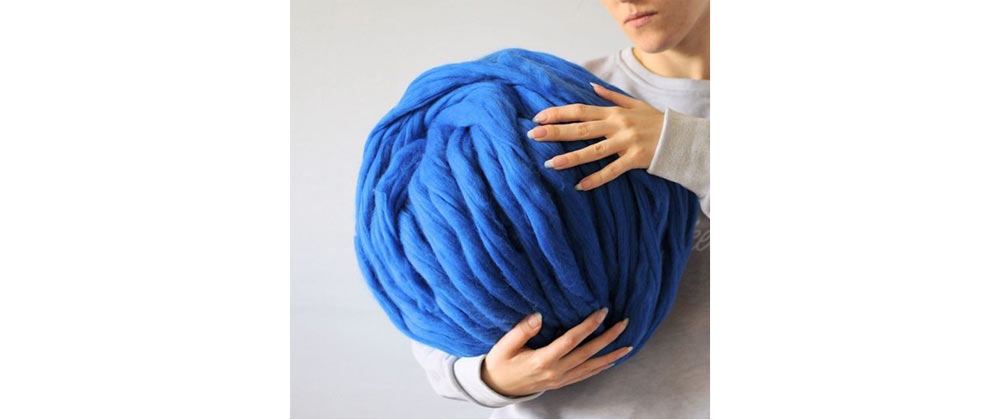 Jumbo yarn (sometimes called Roving) is used for the largest, puffiest projects. It is so thick, that it can be manipulated by hand – without needles – though there are super jumbo needles – up to size 50 (US) and extra jumbo crochet hooks that are used to make everything from blankets to rugs. Not as suitable for clothing as super chunky yarns, there are some lush accessories like this cowl that are ideal for this weight yarn. Look for the number 7 on the label to identify this weight.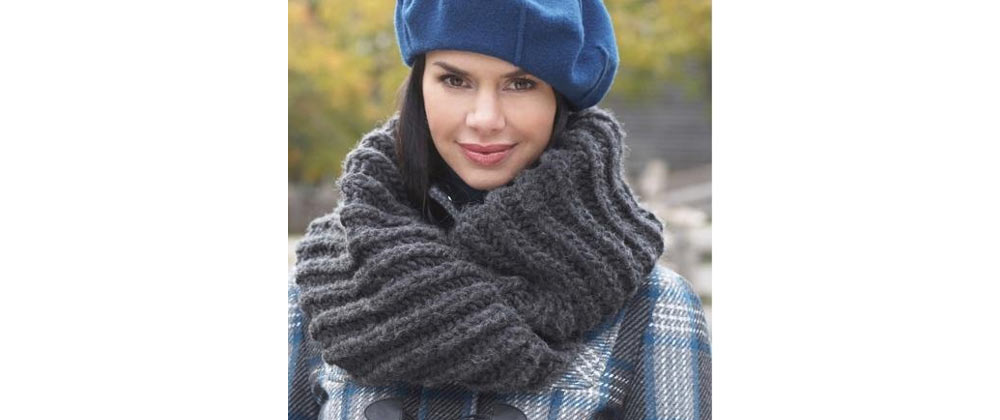 If you're knitting with roving yarn, it's a lot like knitting with any other super bulky yarn. Knitting with roving is a lot of fun because the projects work up so quickly and the personality of the fiber really shines through.
You need to take special care to not split the yarn as you knit. It's often best to use needles that do not have a pointy tip. Perhaps jumbo bamboo needles like these. Projects worked with roving can get heavy really fast. Even if you don't need a pattern, you might want to use a circular jumbo needle to knit back and forth. This will take some of the weight off your wrists as you knit, which will help avoid repetitive strain from knitting.
If you dabble in crochet, roving is a very popular choice for hook and finger crochet and really quick, bulky projects.
For information on arm knitting, look here!