When we made the decision to create a hand-dyed yarn line, one of the motivating factors was our love for color. Symfonie yarns are a harmonious mix of colours specially designed for knitters and crocheters. The hand-dyed yarns translate the vibrant culture of India into yarns that work for a wide range of projects. As any student of textile history will tell you, India's knowledge and mastery of color is legendary. We wanted to share that beauty with knitters – it's that simple. In addition, we wanted to do it on the finest material, make it as consistent as humanly possible and we could fine and make it as affordable as possible.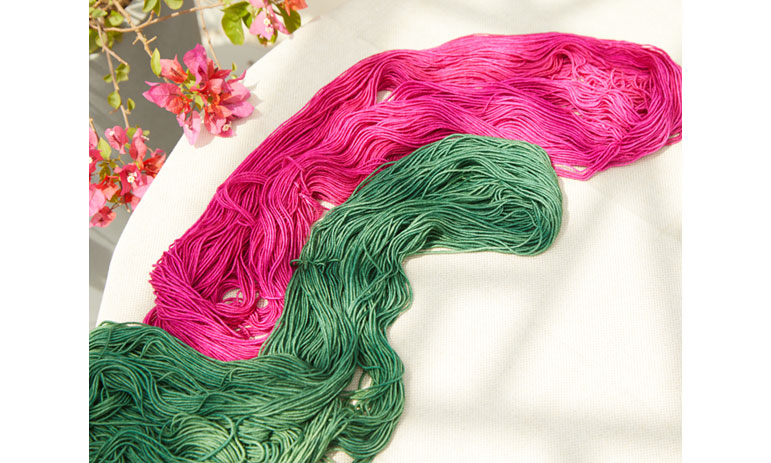 We knew it had to be a natural yarn – one that was soft but kept its shape. One that was lightweight but provided good insulation. It couldn't be "itchy", have any scent, or be easily creased. It needed to be lightweight and warm and do it all in a natural and sustainable way.
There was only one wool that fit these criteria and that was Merino – the core wool of the first Symfonie Yarn collection. The Merino breed was developed by the Spanish in the 13th Century. Its breed was safeguarded and kept from export for well over 200 years. Merino wool's value lies in its slimness. The thinner the wool, the lighter and more versatile it is. Merino wool is one of the thinnest, with Superfine Merino only a quarter of the width of a human hair. That unique slender profile makes Merino wool exceptionally soft, as the long fine fibers can bend more than the wool from coarser breeds. High-grade merino wool can feel as soft as cashmere. Symfonie superwash Merino is strong enough to be put into a washing machine, a fact that belies its exceptionally soft texture.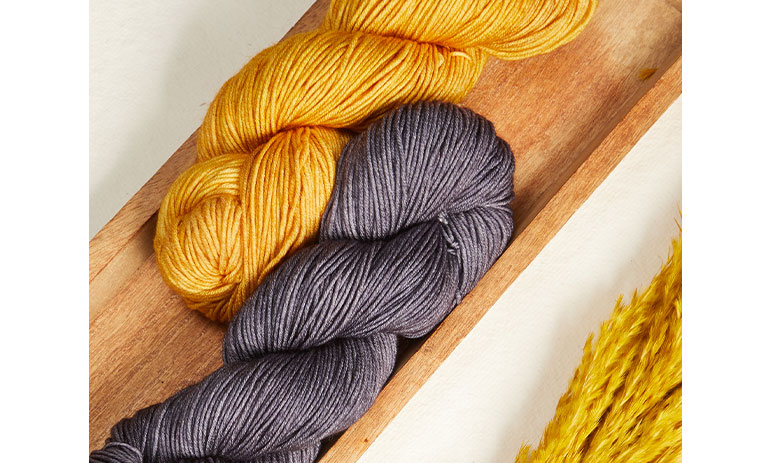 A DK weight was chosen because of its wide application of use. It's the perfect weight for everything from lightweight garments and accessories to home décor items. Most often worked on needles ranging in US sizes 4-6, it results in beautiful stitch definition – all the better to show Viva's colors to their true advantage.
The determination to create a stunning Indian palette required a state-of-the-art dye studio. In order to maintain strict control, one was constructed on KnitPro's Indian headquarters. Hand dye artisans whose knowledge of dyes, natural and traditional, were found and hired. Their dyeing expertise was matched by their mastery of color. Once started, it was hard to stop since they kept on discovering multiple variations of the rich tones that distinguish India's native colors.
Hand-dyed yarns often vary from batch to batch, but the effort was made to create "color recipes" that can be counted on to produce consistent color. As a result, over 60 semi-solid and variegated hues were created – Every one of them so beautiful that all had to be included in the production of our first DK weight yarn. It was named VIVA, a name that resonates with life.
Here is a sample of some of the colors that were created for Viva's launch.

Value was another motivating factor. There are many beautiful hand-dyed yarns on the market, but high cost excludes many knitters from buying in sufficient quantities. Viva's 100-gram, 240-yard skeins are priced to be affordable. Working with high-quality yarn is a pleasure and one that should be enjoyed by as many people as possible.
No discussion of quality can be had without considering the importance of sustainability and safety. All our base yarns and dyes are Oekotex Class 100 certified – a standard developed for the textile industry and suppliers to protect those who work with and wear fabrics, fibers and yarns. Click here to learn more about this important safety certification.
The reception Viva has received – on the domestic and international level - has been outstanding and we feel confident that the objectives that began this project have been met. We hope you agree.