If you've been itching to dive into a project that strikes the perfect balance between fine and medium weight yarn, you've come to the right place. In this comprehensive guide, we'll explore the ins and outs of DK weight yarn, giving you all the information you need to create stunning masterpieces with ease. So, grab your hooks and needles, and let's get started on this journey of exploring DK weight yarn together.
What is DK Weight Yarn?
Picture this: a yarn that's not too heavy, not too light, but just right. DK weight yarn, also known as Double Knitting weight yarn, sits comfortably in the middle of the yarn weight spectrum. In terms of the standard yarn weight scale, DK weight yarn usually falls into the 3 or light category. It measures around 11-15 wraps per inch (WPI) and is traditionally made up of 8 plies, or strands of yarn twisted together, giving you that perfect blend of thickness and flexibility. The lighter weight of DK yarn makes it perfect for projects like summer sweater, cap, accessories or children's clothing. Speaking of perfection, Symfonie Yarns' Merino Silk DK weight yarn offers a heavenly blend of softness, sheen, and drape, combining the finest fibers of merino wool and silk.

What makes DK weight yarn truly enchanting is its exceptional versatility. It boasts a delightful texture that can range from smooth and sleek to subtly textured, depending on the fiber content. DK weight yarn comes in a mesmerizing array of options, and the best part is that Symfonie Yarns offers the most delightful collection of DK weight yarns. What sets Symfonie's merino silk yarn apart is not only its luxurious blend but also the range of exquisite colors available.
Thickness and Texture:
DK weight yarn is known for its balanced thickness, making it suitable for various projects. It is thinner than worsted weight yarn but thicker than sport weight yarn, giving it a versatile range of uses. The texture of DK weight yarn can vary, from smooth and sleek to slightly textured, depending on the fiber content.
Get creative with DK weight yarn:

DK weight yarn is an absolute dream for creating fashionable garments. Its medium-weight nature strikes a balance between warmth and drape, making it ideal for crafting cozy sweaters, cardigans, shawls, and even lightweight tops. You can even elevate your accessory game with the charm of DK weight yarn. From hats and scarves to gloves and mittens, the possibilities are endless. It doesn't just end here. DK weight yarn is ideal for baby blankets, booties, hats, and socks, and for that, Symfonie Yarns' merino silk blend is just like cherry on top! Its warmth and durability are sure to be treasured and provide comfort to your tiniest bundles of joy.
Here are some useful tips to keep in mind: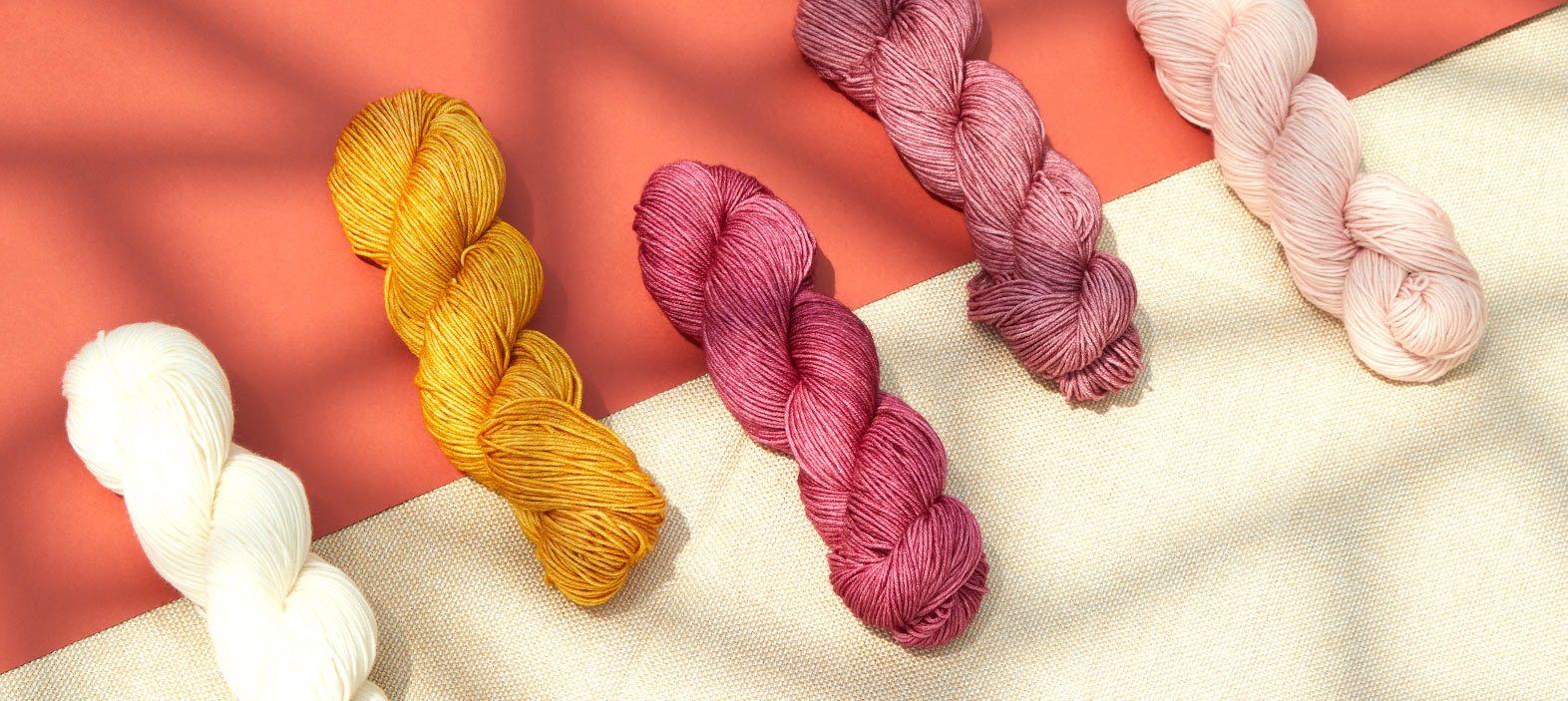 Gauge and Needle Size: Achieving the perfect stitch and row count is crucial, so always check the recommended gauge for your pattern. Adjust your needle size accordingly, typically within the US 4-6 (3.5-4mm) range, to ensure your project turns out as envisioned.
Fiber Selection: Remember that the fiber content of DK weight yarn influences the drape and feel of your finished piece. Consider the characteristics you desire, such as warmth, softness, or breathability, and choose the fiber accordingly. Experiment with Symfonie Yarns' DK weight yarns and feel the breathtaking difference yourself.
Pay Attention to Care Instructions: Different fibers have different care requirements. Check the label to ensure you give your DK weight yarn creations the love and care they deserve. Some may need gentle handwashing, while others can withstand the washing machine- knowing the rules will keep your projects looking their best.
Color Play: DK weight yarn opens up a world of color possibilities. With its medium weight, it absorbs dyes beautifully, resulting in vibrant and eye-catching hues. Explore variegated, tonal, or solid colors on Symfonie Yarns to add depth and visual interest to your projects with their premium hand-dyed yarns.
Whether you're creating a delicate lace shawl, a cozy sweater, or an heirloom baby blanket, Symfonie's merino silk DK weight yarn lends a touch of elegance and refinement to any project. With a touch of finesse and a world of possibilities, this will soon become your go-to choice for a myriad of projects. So, unleash your imagination, embrace the joy of crafting, and create beautiful pieces that reflect your unique style and personality!