One of the most enjoyable things about finishing up a knit or crochet project is deciding how to customize it. You can make the most basic knit special with a unique edging or finishing technique. One of the easiest techniques is a single crochet border. This video will show you how it's done.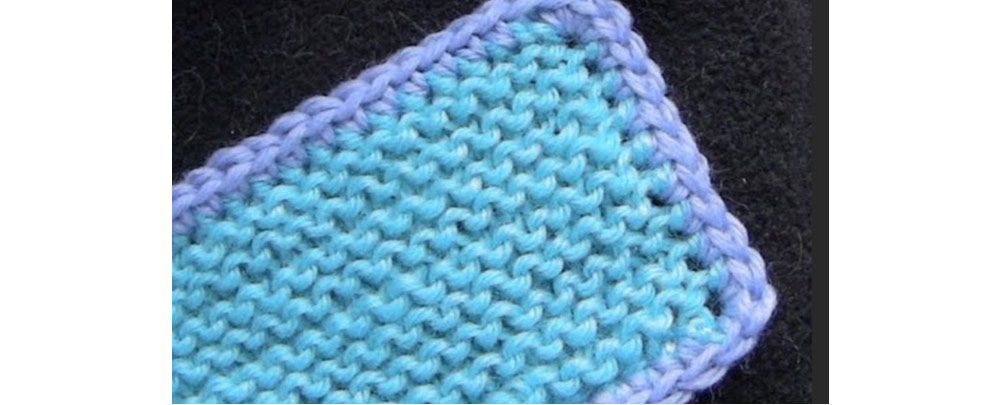 If you have not tried this before, you might wish to practice on a knit swatch. Once you have the simple technique mastered, you can try it on something bigger- like a simple blanket or throw. A contrasting color border takes a regular knit blanket and turns it into something special. There are a number of edging options available for you. We found a free collection of them online. Here's a video demonstrating how to do an easy scalloped edging. See how distinctive it is when done with a deeper complementary color?

Here's another edging that is a little bit fancier – It's called a picot edging and the technique is demonstrated in this video.

​
Either of these crocheted borders, done in a complementary color, are sure to add a note of distinction to a basic blanket , throw or scarf. There are hundreds (literally) of free patterns for these projects online. They are easy to find through google or on Ravelry. Be sure to use the word "free" to find a no-cost one) The cool thing about enthusiastic knitters and crochet fans is they are generous and like to share. Another good source is Pinterest.
You can even design a pattern of your own by simply casting on a number of stitches that will give you the width of the scarf or blanket you wish. Here's a suggestion for a Super simple scarf pattern that is perfect for beginners. We have suggested a dk weight yarn for this and have estimated approximately 5.5 stitches to the inch. At that gauge it should give you a 12" wide scarf. This is an approximate gauge for that weight.
Using a size 5 (3.75mm) knitting needle*, cast on 66 stitches using one of these beautiful dk weight yarns from Symfonie Yarns. The one we used is Luna. It's a blend of silk and wool. Each skein contains 200 yards, so a "long-enough scarf "could be done with just 2 skeins.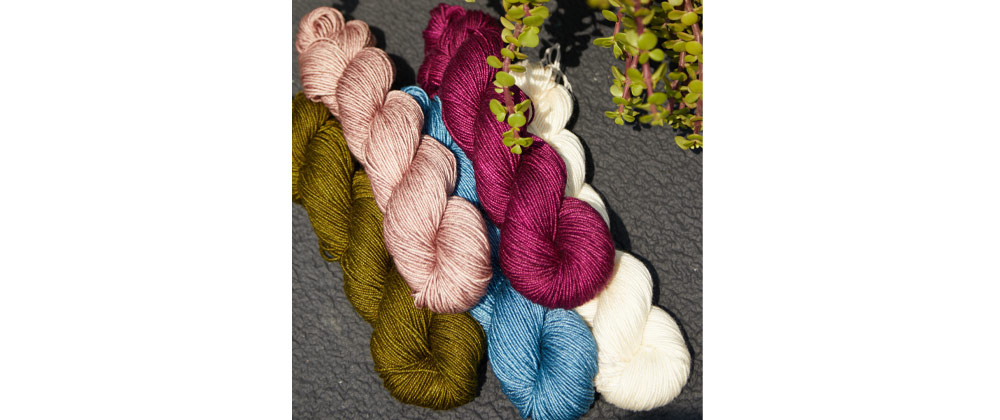 After you have cast on the stitches, knit every stitch and every row. All you have to do is knit the length you wish your scarf to be – we think 20" is a good length. See what you think! Then cast off. You could decorate the ends with pompoms or do one of the edgings you see above on each end.
* Use a straight or a circular needle, working back and forth.
Since the yarn is unique and you are the person who made it, no one else will have one like it. That's another advantage of doing your own design and customizing the edging. With a yarn like Luna, you have the choice of 16 special colors. You could use a pretty contrasting color for the edge. Here are a mere 6 to tempt you. If you wish to see the rest, just click here.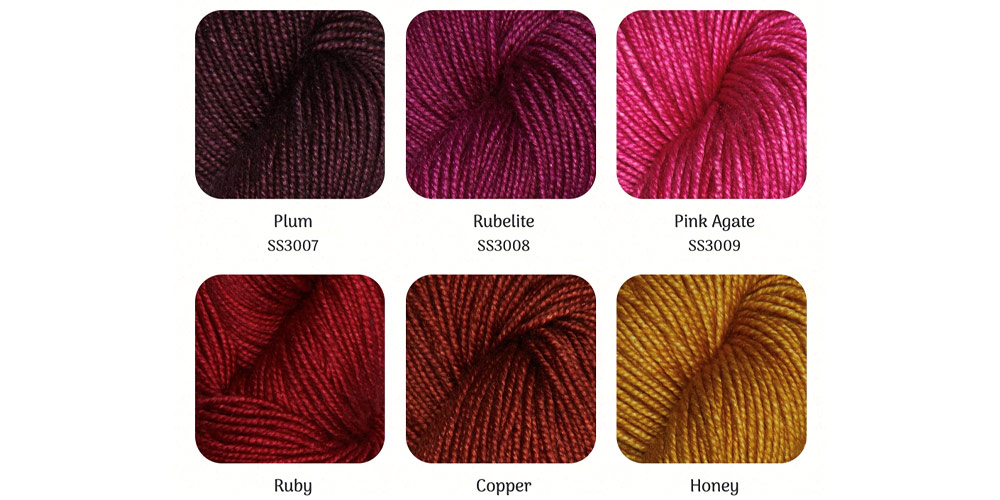 For more color options, check out Symfonie Yarn's other dk weight pure merino yarn: Viva There you will find more than 60 colors from which to choose, including some fabulous variegated colorways, like this one!

Since we mention pompoms, we think it only fair to give you a few pompom tutorials to consider. They do qualify as edgings, after all. We found these simple instructions and links:
Make a pompom with your hand – no tools needed – except scissors!
Use a special pompom maker – A lot of people prefer to make pompoms in a variety of sizes. This little tool is perfect for a customized size. Here's an idea: you could make a series of small ones and attach them to each end of a scarf. Here's a picture to give you an example.
Some people prefer tassels – They are also super easy to make. This video explains how to do it and how to attach them to your project.
We'll return with lots more ideas. In the meantime, perhaps you would like to send us pictures of some of the unique ways you have finished your work. Just email us here at support@symfonieyarns.com. Be sure to include your name so that we can credit you.