With winter's chill just around the corner, it's the perfect time to cozy up with your knitting or crochet projects. And when it comes to warmth and versatility, Symfonie's DK weight yarn is your best choice. Together, let's take a look at the wonders of DK weight yarns, explore their benefits, and discover why Symfonie Yarns stands out as your top choice for these delightful yarns.
What's in a Name?
You might be surprised to know that the "DK" in DK weight yarn stands for "double knitting." However, don't get it twisted—it's not about the "double knitting" technique itself! Contrary to what the name suggests, DK weight isn't about specifying a particular kind of project; it's simply a way to describe the thickness or weight of the yarn. DK weight yarns fall in the medium weight category, sandwiched between fingering and worsted weight yarns. They are known for their balanced thickness, making them ideal for a wide range of projects. This means you're not just bounded within a specific domain of craft, you can let your imagination go wild with creativity!
DK yarns typically have a gauge of 21-24 stitches over 4 inches (10 cm) on a US 5-7 needle (3.75 - 4.5mm). When you're about to use DK weight yarn, it's essential to pay attention to the label. This small but crucial piece of information can make a big difference in the outcome of your project and make it look as flawless as you envisioned it. It's super easy to locate the weight category on the label. It's usually represented as a number or a symbol that tells you the general thickness of the yarn.
Why DK Weight Yarn?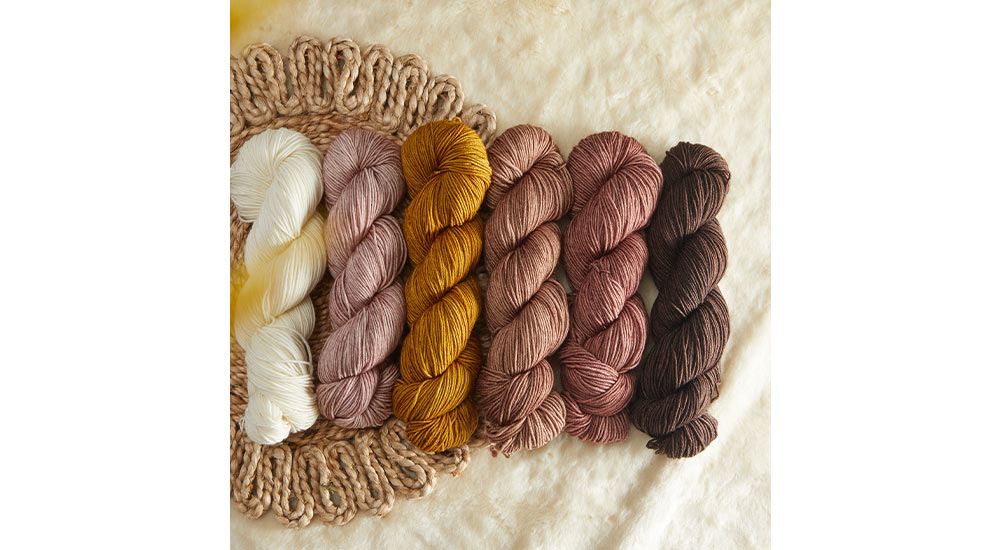 DK weight yarns offer a convenient blend of weight, thickness, and texture, making them a premium choice for knitters and crocheters alike. Now, when it comes to finding the best DK weight yarn in the market, Symfonie Yarns takes pride in offering a top-quality range of DK weight skeins that are unmatched in terms of craftsmanship, colors, and variety. Whether you're diving into a Fair Isle pattern or experimenting with intarsia, Symfonie's DK weight yarns offer the ideal canvas for colors to shine while maintaining a comfortable weight for your projects.
Winter projects often call for warmth without the bulk, and this is where DK weight yarns shine. They provide the much-needed coziness for cold-weather endeavors without adding unnecessary heft, ensuring that your finished pieces are comfortably wearable without feeling too heavy or cumbersome.
Must-try Winter Projects
Crochet Slippers: Warmth from the Ground Up
During winter, it's easy to feel the cold creeping in, and many of us have experienced the sensation that if our feet are warm, the rest of our body follows. That's why crocheted slippers are the perfect winter crochet project. You can elevate your slipper game by trying out our DK weight Flora range, whose all-natural earthy and vibrant tones provide the perfect palette to create slippers that are as stylish as they are warm.
Knitted Infinity Scarf: Stylish and Snug
Scarves are the quintessential winter accessory, and an infinity scarf takes it up a notch. Knitting an infinity scarf not only keeps you warm but also allows you to experiment with different colors to match your unique style. Whether you prefer bold, vibrant hues or muted earthy tones, Symfonie Yarns offers a wide spectrum of shades to choose from, while offering a premium quality of DK weight yarn. The best part about knitting scarves is that unlike many other garments, you don't have to worry about sizing, making them the perfect heartfelt present for friends and family this winter!
Crochet Ear Warmers: Quick and Cozy
When you need a quick winter crochet project that delivers immediate warmth, look no further than headbands or ear warmers. These are not only speedy to make but also incredibly effective at keeping your ears toasty. Symfonie Yarns' supreme materials and color selection can help you create an accessory that's both stylish and practical. Check out Viva for a burst of colorful excitement paired up with DK weight thickness, making it the perfect choice for this project.
Knitted Poncho: Elegance and Comfort
A knitted poncho is a winter project that exudes elegance and warmth. Ponchos are versatile garments that can be worn as stylish accessories or as cozy layers over your winter attire. Symfonie Yarns' superwash merino wool in DK weight makes it an ideal choice for crafting a poncho that combines comfort and style. Choose earthy tones for a rustic, outdoorsy feel or vibrant colors for a modern and bold statement piece.
In conclusion, DK weight yarns are a cherished choice for crafters, and winter emerges as the ideal season to embrace the beauty of DK weight yarns. As the temperatures drop and we seek comfort and warmth, these versatile yarns become our trusted companions. And what better way to embark on these projects than with Symfonie Yarns, where the delightful tones along with premium materials, elevate your creations to a new level of artistry. So, as the snowflakes fall and the fire crackles, let the soothing rhythm of your needles and hooks bring your winter dreams to life with the enchanting embrace of DK weight yarn. Stay warm and craftsy!