After writing about Mosaic Knitting , we knew we had to give the subject of Mosaic Crochet its own time online. There are so many beautiful things that can be made with this amazing stitch – many of them perfect for home décor as well as fall and winter wear.
There are scads of tutorials online for how to do it but we chose this Series on YouTube We thought it best explained and clearly shows how it is done. Tinna is from Iceland which explains her charming accent. Here is an example of one of her patterns.
One of the things she, and a number of other designer's stress, is how simple the technique is for Mosaic Crochet. You only need to know 3 stitches: chain, single crochet (SC) and double crochet (DC). Many of the rugs and blankets are beautiful because the design has a graphic quality that calls attention to itself. Here is an example of a blanket made using only 2 colors: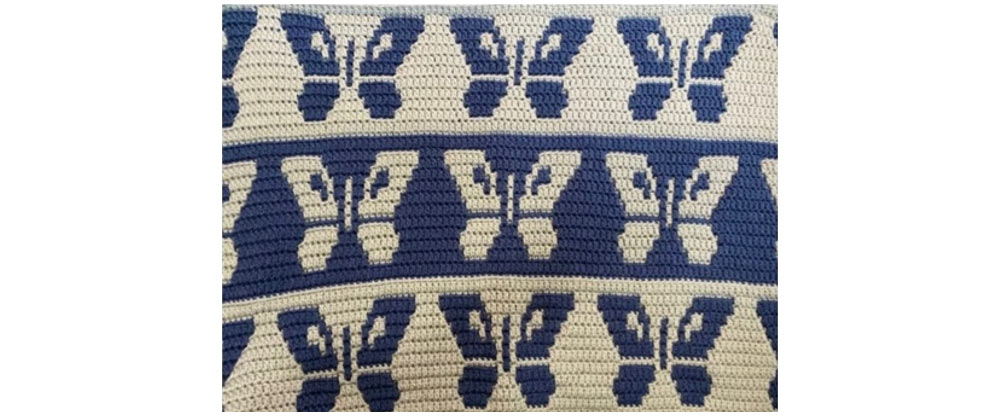 When this pattern is done on the specified yarn (worsted) it is a quick crochet, which uses a large hook (5.0mm). (Just in case you are looking for the ideal crochet hook set – one that includes the most popular sizes) The soft touch handles insure they feel great in the hand, and the smart zip-up case makes them easy to keep organized and tote along when traveling.
If you are looking for a smaller sized project, here are a few ideas that you might like. This free little cowl pattern is one to consider after you have practiced a bit with larger yarn and hooks.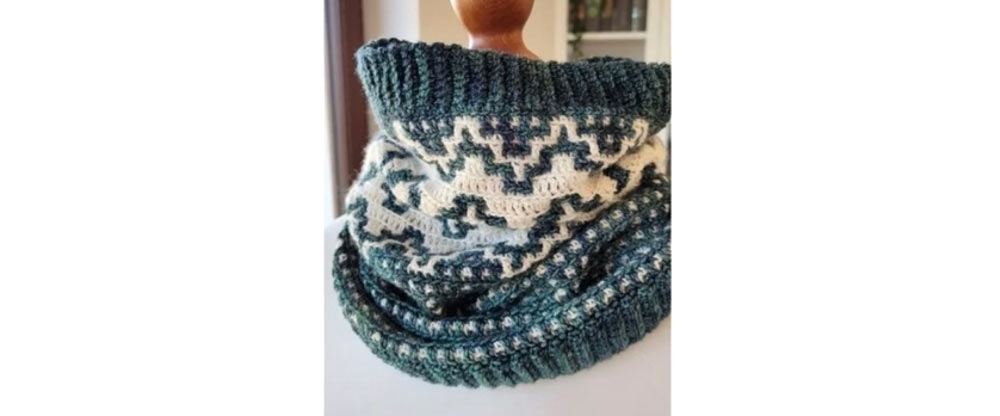 This one calls for a sock yarn weight – like Terra from Symfonieyarns.com. Imagine how pretty this would be in Holiday colors like these:
When reading about Mosaic crochet, one comment keeps popping up consistently. All the designers seem to agree that this technique is "addictive", meaning once you start practicing it, it's very hard to stop. Maybe that is why there are so many attractive rug, blanket, pillow and shawl patterns out there. Here is a sampling.

This is also made with a fingering weight yarn, like Terra, but we just know that it would be absolutely stunning with this yarn: Luna.

Luna is a sumptuous blend of merino and silk – it fairly shimmers with the highlights that only silk delivers. These are just 5 of the 16 colors you will find. These are similar to what you see in the picture – but have a look here for more inspiration.
As mentioned earlier, one of the neat things about Mosaic Crochet is that it works up quickly when done with thicker yarn. That allows us to indulge our love of seasonal decorating and still have time for the other important things in our world. Here are a couple of examples:
This Winter themed throw can serve a number of duties – keeping toes toasty on a cold morning or dressing up a Holiday themed event. It also makes a wonderful gift. Just 2 colors says it all. It's worked with a size 5.0 crochet hook and a slightly bulky yarn so the going is fast and rewarding.

If you have any children in your family – or life – chances are that at least one of them is enthralled with dinosaurs. They are a very popular theme with the under 6 set. We discovered this remarkable mosaic crochet blanket online. Just Imagine how delighted a little boy or girl would be to receive this as a gift.

While this blanked is done on a dk weight yarn, like Viva, it could also be done on a worsted weight yarn and work up in time for the Holidays.
Please take a look at this designer's work on Ravelry. Like most fiber work designers, her generosity is something to appreciate. Here is an example of one of her free patterns, aptly named: Swirly McWhirly.

We think it would make a wonderful scarf, shawl or throw. Just use your favorite two contrasting colors and have fun!
If you decide to give this crochet technique a try, we hope you will share your work with us. You can reach us here: support@symfonieyarns.com. Be sure to include your name so that we can credit you.