As summer rolls in with its warm sunshine and gentle breezes, it's the perfect time to indulge in some delightful summer knitting projects. And what better way to infuse your creations with vibrant beauty than by using Symfonie's hand-dyed yarns? These exquisite yarns add an extra touch of artistry to your knitting, creating unique pieces that reflect your personal style. In this blog, we'll explore the joys of knitting and crocheting with hand-dyed yarns and provide a couple of easy tutorials to get you started on your creative journey this summer.
Trendy Seamless Tank Top
Materials:
Approximately 3 skeins of hand-dyed fingering weight Luna yarn
4.5 mm (US 7) circular needles (or needle size to get gauge 17 sts x 28 rnds = 10 x 10 cm / 4 x 4")
4.00 mm (US 6) double pointed needles
Measuring tape
Stitch markers
Tapestry needle
Scissors
To get started with the casting off for the body, take your circular needles and knit 128 stitches (for size small to medium). Once you're done, join in the round, being careful not to twist the stitches. Place a stitch marker to mark the beginning of the round. Continue knitting in the round until you reach your desired length, 31 cm is the recommended length for small to medium size.
Now let's bind the stitches. Count half the stitches and start binding from the 64th stitch. Repeat this process until you reach your stitch marker. Make sure to keep the stitches tight.
In row 1 of the right side, follow the 'slip, slip, knit' pattern and continue until you have 3 stitches left. Knit 2 stitches together and transfer the last stitch on your right needle. Turn your work and purl through the wrong side. Repeat these two steps for 7 times, making it a total of 14 rows.
For the shoulder straps, grab your double-pointed needles and insert it into the right side of your work where you want the armholes to be. Follow the 'knit, purl, knit' pattern 7 times and turn your work. Repeat the same pattern until you reach your desired length. Finish it off with binding off the stitches and repeat the process for the second strap.
Now all that's left to do is attach the straps according to your preference, whether you opt for classic straight straps or go for a stylish criss-cross style to add a little spark to your creation. Use your tapestry needle and matching yarn to securely sew the straps onto the tank top. Lastly, give your tank top a final touch by blocking the stitches. Soak the tank top in lukewarm water, gently squeeze out the excess water, and lay it flat to dry, reshaping it as needed. Voila! Your trendy summer tank top is ready to be worn and enjoyed on sunny days or layered under your favorite cardigan. Get ready to showcase your knitting skills and stay cool in style with Symfonie Yarns' premium hand-dyed goodness!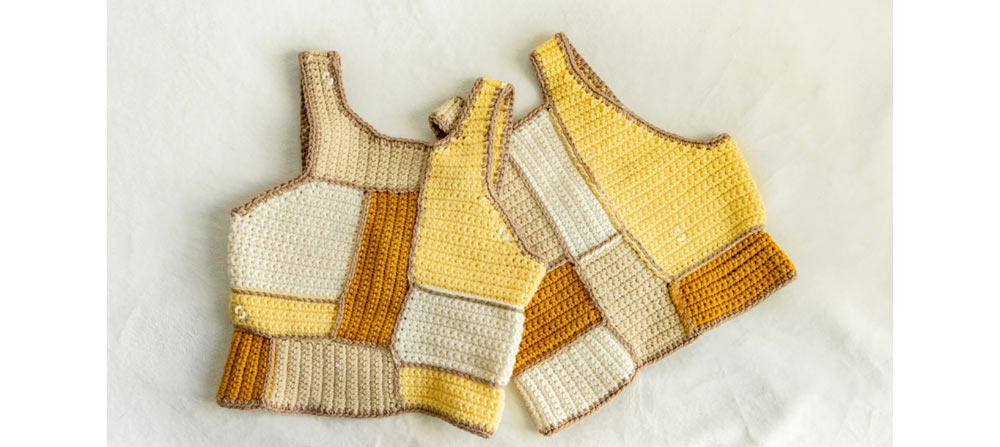 Summer Bucket Beach Hat
Materials Needed:
100% Naturally Dyed Superwash Merino Flora Yarn – DK
G-6 (4.00mm) crochet hook
Stitch marker
Scissors
Yarn needle
Start by creating a magic ring (MR) or chain 4 and join with a slip stitch to form a ring. Chain 2 (this does not count as a double crochet, but we will start each round with chain 2), and make 10 double crochets (DC) into the ring. Pull the tail end to tighten the ring. Join with a slip stitch to the top of the beginning your first DC. You should have a total of 10 double crochets in the first round. From the second round onwards, chain 2 and make an increase until you reach your desired circumference. Make an increase in all the stitches in round 2- giving you a total of 20 DC. In the third round, make an increase in every second stitch, mounting up to a total of 30 DC. Make sure to begin every round with chain 2 and end every round with an increase. The recommended number of rounds for a medium sized hat is 8, but it's up to you to get as creative as you want.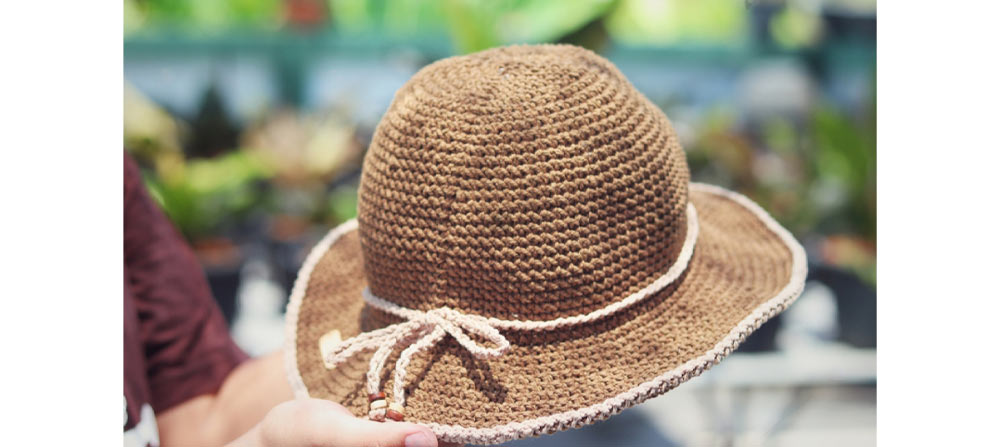 In the 8th round, work your way into the back loops only (BLO) and make a DC in every stitch around. Repeat this process for 6 or 7 more rounds to get your desired length of the body of your bucket hat. We'll now work in the front loops only (FLO) to start with the brim. However, we will be increasing in this 9th round in every 8th stitch, using the N-1 equation. Keep increasing in every second round until you reach your desired size of the brim, and weave in the ends. There you have it, get ready to have some fun in the sun with your hand-made super soft bucket beach hat!
With Symfonie Yarns exquisite range of colors and textures, you can bring your knitted creations to life in vibrant and unique ways. Whether you're crafting a trendy tank top or a stylish bucket beach hat, these hand-dyed yarns offer the perfect blend of artistry and functionality. So, join us in your creative journey and don't forget to share your stunning masterpieces with us!